Choose the brand medical providers and patients know and trust: Botox® Cosmetic. It's the #1 selling treatment of its kind:
The only FDA-approved treatment to temporarily smooth moderate to severe frown lines, crows feet to enhance an overall youthful appearance in both women and men.
A quick 10-minute treatment with minimal downtime.
You may begin to notice results within 24 to 48 hours for moderate to severe frown lines.
It delivers predictable, subtle results, so you look like you, only with less noticeable facial lines.
Botox® Cosmetic is an established brand that delivers consistent results. In a survey, people treated with Botox® Cosmetic say it:
Is a brand they trust
Produces predictable results
Provides subtle results
When surveyed, 62% of respondents say treatment is worth the investment. In fact, Botox® Cosmetic is the only treatment of its kind evaluated by the FDA for safety and efficacy in three treatment areas, as well as for patient satisfaction in frown lines and forehead lines in adults.
Frown lines form when facial expressions are made as the muscle under the skin contracts. Over time, as your skin ages, these repeated expressions cause lasting frown lines. Neurotoxins, such as Xeomin®, are prescription medications that block the release of chemicals that cause these muscle contractions so frown lines are softened.
When you squint or frown, the muscles between your eyebrows contract, causing the skin to furrow and fold. Over time, as your skin ages and loses some of its elasticity, these repeated contractions can cause persistent frown lines. Botulinum toxin type A – the active ingredient in Xeomin®– acts on nerve endings in muscles to prevent muscle fibers from contracting. By reducing these contractions, Xeomin® can temporarily reduce the lines between your eyebrows.
How Do I Know Xeomin®

Is Right For Me?
If you are an adult with moderate to severe glabellar lines, Xeomin® may be right for you. Talk to your doctor to discuss the benefits and risks of treatment.
When Can I Expect To See Results?
You may begin to see visible smoothing as early as 3-4 days after injection. The median first onset of effect was less than a week. The maximum effect occurred at 30 days. 
With aging, the bone density of the face decreases, thus lessening the support of the soft tissues of the face, and creating laxity.  The aging face starts to fall inward and downward.  Dr. Farrell will discuss your concerning areas, and after a detailed assessment, will restore natural balance and shape.
Lip augmentation
Cheek lift
Jawline contour
Tear trough
Chin enhancement
Before & After - Cheek Lift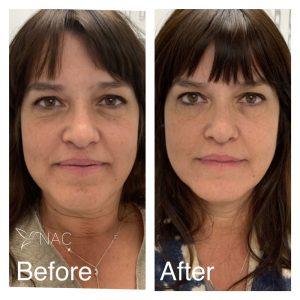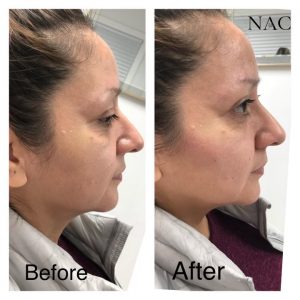 Before & After - Tear Through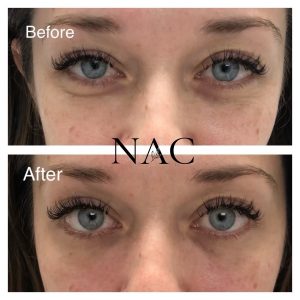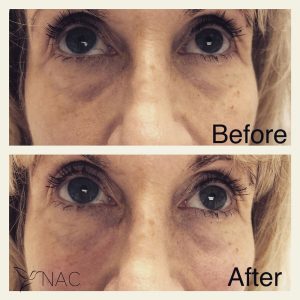 KYBELLA® is administered as a series of injections to the treatment area under the chin, destroying fat cells and producing gradual results. Everyone's chin profile is different, so our staff will tailor treatment to you. The number of treatment sessions will vary based on the amount of fat under the chin and your treatment goals.
KYBELLA® may be right for you if:
You're bothered (unhappy, self-conscious, embarrassed) by fat under the chin, also known as submental fullness
You feel the condition makes you look older or heavier than you actually are
You don't want to have surgery
You eat well and exercise, but submental fullness does not go away
The active ingredient in KYBELLA® is synthetic deoxycholic acid. Deoxycholic acid is a naturally occurring molecule in the body that aids in the breakdown and absorption of dietary fat. When injected into the fat beneath the chin, KYBELLA® destroys fat cells, resulting in a noticeable reduction in fullness under the chin. Once destroyed, these cells can no longer store or accumulate fat, so further treatment is not expected once you reach your desired aesthetic goal.
What To Expect With KYBELLA®
Before starting treatment, our healthcare specialist will examine the area under and around your chin to determine if KYBELLA® is right for you. Then, your specialist will tailor your treatment to the amount of fat under the chin and your aesthetic goals.
How Is KYBELLA® Administered?
Treatment can only be administered by a KYBELLA®-trained healthcare specialist. At each treatment, you will receive multiple small injections under your chin, and the injection process takes about 15 to 20 minutes. The exact number of injections will depend on the amount of fat you have under your chin and your desired profile.
How Many KYBELLA® Treatment Sessions Will I Need?
Since everyone's chin profile is different, the number of treatments varies from patient to patient. Out specialist will help determine how many treatment sessions you need based on the amount and distribution of your submental fat and your personal treatment goals. Each KYBELLA® treatment session is given at least 1 month apart, and you should not receive more than 6 treatments. In clinical studies, 59% of patients received 6 treatments.

Get in touch with us today to request an appointment or to speak to our staff.