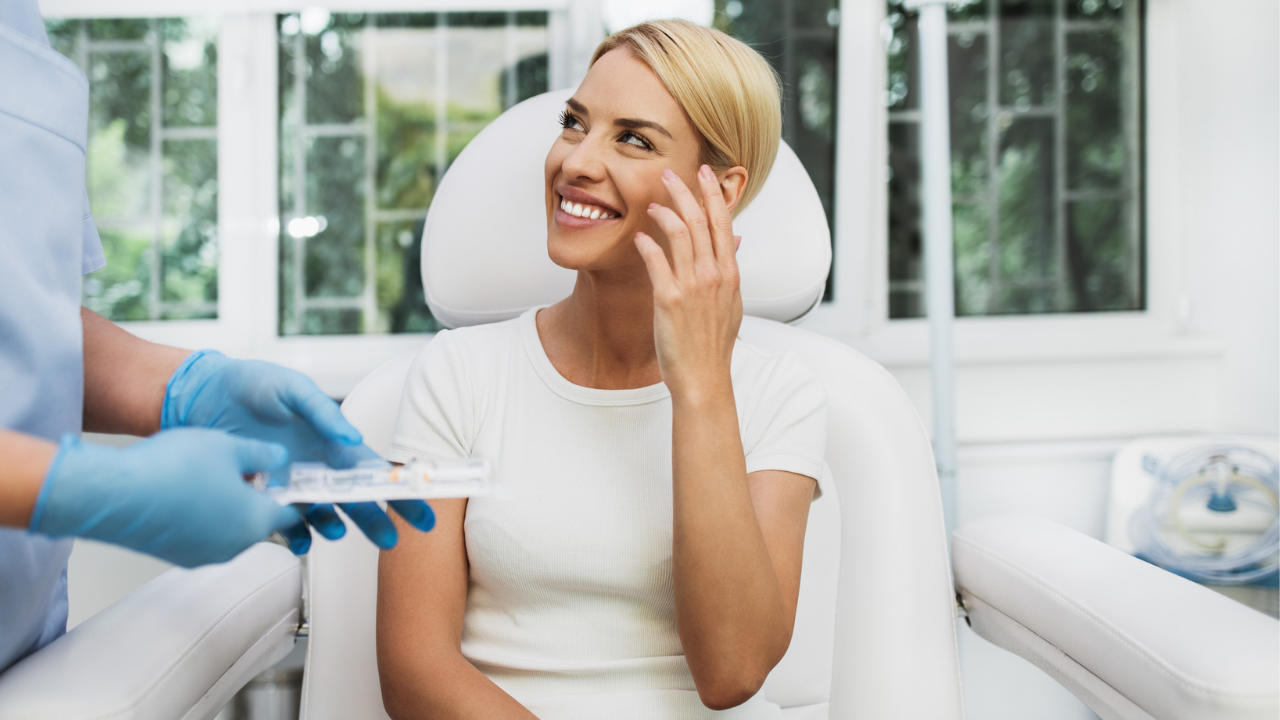 The popularity of neurotoxin and filler injectables is on the rise.  They are both effective, non-surgical treatments for rejuvenating the face with minimal to no downtime.  Dr. Bita Farrell, a board certified physician and injector explains the difference between your options, and which is best for you. Wrinkles and fine lines on the face develop due to several factors including sun exposure, aging and genetics.  Our skin creases and folds with every facial expression, chewing, laughing, smiling and frowning.  As our skin matures, distinct movement patterns form as a result of repetitive motion and begin to create deep creases in the skin.  Lines of expression or "crease points" are areas where muscles contract and are often treated best with a neurotoxin.  Fillers are best for deep lines that are present even when facial muscles are at rest. 
First things first, Botox is the brand name of a specific botulinum neurotoxin.  There are 4 FDA-approved neurotoxins available in the US:  Botox, Xeomin, Dysport and Jeauveau. Neurotoxin is injected in small, controlled doses to safely and temporarily relax muscles.  It blocks the signals sent from the brain to the targeted muscle, preventing the muscle from contracting.  This can be used both for patients who already have wrinkles or for younger patients who are interested in preventing wrinkles.  
Common muscles injected are areas of facial expression such as frown, forehead and laugh lines.  Other areas injected are above the lip for a "lip flip", corners of the mouth and the chin.  Neurotoxin has some relatively non-cosmetic uses as well.  These include (but are not limited to) injecting the jaw muscle for TMJ , and armpits for excess sweating.  Results vary depending on which product is used.  Patients start seeing results after 3-7 days on average, which lasts 3-4 months.  No downtime or recovery is needed following the appointment for neurotoxin treatments.  They are commonly scheduled during lunch breaks as they are quick appointments.
Injectable fillers are an effective treatment in counteracting the natural effects of the aging face.   As we mature, our skin declines in collagen and elastin, or volume and elasticity.  We start out as a firm, spring mattress, and over time, the springs (collagen) weaken and result in volume loss and sagging of the skin.  The youthful, natural resiliency that allows skin to smooth over and bounce back between facial movements in reduced, meaning wrinkles and creases formed can linger and become fixtures on the face.  
Fillers are most commonly made of Hyaluronic acid.  Hyaluronic acid (HA) is a naturally occurring sugar molecule that holds up to 1,000 times its weight in water, and is responsible for keeping skin hydrated and smooth.  Fillers add definition and volume to certain areas of the face and restore a smoother and more youthful complexion, and can be used for sculpting areas such as cheeks, chin and jawline.  HA fillers include Juvaderm, Restylane, RHA, and Belotero.  HA fillers come in a range of viscosities, with a spectrum of more watery to more solid.  During your consultation, Dr. Farrell assesses which is best for you. Non-HA fillers include Radiesse, Sculptra, and Bellafill.  Common areas treated with fillers include:  hollow cheeks, nasolabial folds, marionette lines, chin folds and of course, lips.  Minor bruising, swelling and skin redness can occur for up to 2 weeks.  Results last on average 6 months to 2 years, depending on the location and type of filler used.
There is a wide variety of neurotoxin and filler available.  Just like a good artist with a complete palette, an expert injector like Dr. Farrell has a wide range of products and an artistic eye to address your every need.